UF's Collaboration for Continuous Improvement (CCI): Transforming the way we work, together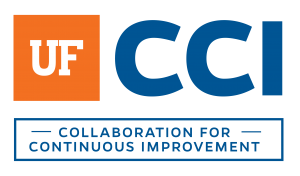 In the previous issue of CFO Advisor, we shared details about UF's recently launched initiative to improve our business processes by using Lean methodologies as we strive to be a top-five public university. We also introduced you to one of the Office of the CFO's newest members, Amy Haberman, who joined the team as assistant director of the Business Process Improvement Office.
After settling into her new role, Haberman received feedback from the champions of the Lean initiative that a change in name would better reflect the spirit of the work they are doing in collaboration with units across campus. Therefore, the former "Lean Team" has adopted a new moniker: the Collaboration for Continuous Improvement (CCI).
"The new name is an accurate reflection of the real goal of this initiative: to change how people think about the way they work," said Haberman.
In addition to Haberman, the CCI is comprised of Emily Moran, of Finance & Accounting; Shay Potts, Amber Wuertz and Gwynn Cadwallader, of UF Human Resources; Mikki Hall, of UFIT; and Kenneth Allen, of Business Affairs.
Continuous improvement is a mindset that enables organizations to streamline processes, improve the quality of work, conserve resources and boost morale. It empowers employees to actively participate in efforts to solve problems and to continually improve the processes they work with. The Continuous Improvement model is the foundation of formal techniques such as Lean, Six Sigma, Agile and others.
To align itself with the new brand, the Business Process Improvement Office—which is leading UF's continuous improvement efforts and advising the CCI—is now known as the Office of Continuous Improvement.
So far, the CCI has worked on improving six major processes across UF by:
Reducing the processing time associated with producing emergency payroll checks
Reducing the lead time associated with hiring and paying foreign nationals
Improving the timely collection for auxiliary billing
Expanding the UF Alert program to UF Jacksonville
Establishing clear and consistent FMLA guidelines and resources
Creating one system of record in myUFL for the tracking and reporting of Fund 143 uses
As a result, the emergency payroll check process has been improved from 18 hand-offs to just five and has reduced processing time by one whole day (a 20-percent improvement). The lead time of foreign nationals receiving their first paychecks has been reduced from about 34 days to 20 days (46 percent sooner). The auxiliary billing processing time has decreased while accuracy has increased by 50 percent of Expense to Revenue journals. UF Alert is now available for students and employees from UF Jacksonville, and UF has created resources for supervisors and employees regarding FMLA policies and processes. Lastly, Fund 143 reporting is beta testing the project field ID, with a soft launch of the project field coming in January 2020. During the soft launch, the project ID field will be available and recommended before it is required later in 2020.
"The overall impact is immeasurable because so many people are affected by and involved in these processes," said Haberman. "However, we did track the number of individuals who played a role in these improvement efforts, and it has grown exponentially. From just six processes, we had about 25 different departments and nearly 100 employees engaged. We are excited to keep the momentum going and to continue to grow the positive impact the continuous improvement initiative is making on campus."
The CCI is ready to assist your unit with analyzing and improving how it does business. When reviewing submissions, the team weighs the following factors: the cost or time savings of the submitted project, its projected ease of implementation, stakeholder buy-in and risk mitigation.
"We are actively soliciting for new projects and excited to continue to improve our proficiency in using these tools and analyzing processes for opportunities for improvement," said Haberman. "We also hope to grow the CCI by training new facilitators."
If you have an idea for improvement, please reach out via the Continuous Improvement Suggestion form: https://cfo.ufl.edu/about-the-office/feedback/
Learn more on the Continuous Improvement Office website. Questions or feedback can be shared with ahaberman@ufl.edu.