Taylor Jantz and Kevin Lintner have been selected to lead the Office of the CFO during the transition period as UF searches for a new Senior Vice President and CFO.
Taylor Jantz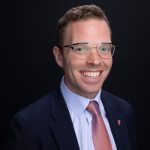 Taylor has over a decade of experience working with colleges and universities across the country on issues related to resource allocation, financial planning, and fiscal strategy. Prior to joining the University of Florida, Taylor most recently served as a Director at Huron Consulting Group where he helped over 30 colleges and universities including a dozen R1 institutions on a variety of financial projects. Taylor holds his BBA in Economics from Creighton University and his M. Ed. in Higher Education Administration and Policy from Vanderbilt University.
Kevin Lintner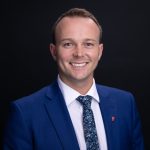 Kevin has partnered with nearly three dozen colleges, universities, academic medical centers, and healthcare organizations on strategic resource utilization, fiscal sustainability, operational improvement, and organizational transformation initiatives. Prior to joining the University of Florida, Kevin served as a manager at Huron Consulting Group. Kevin holds an economics degree from the University of Wisconsin – Madison.